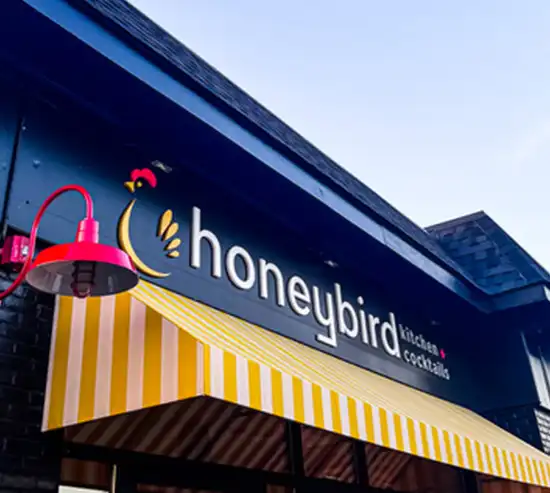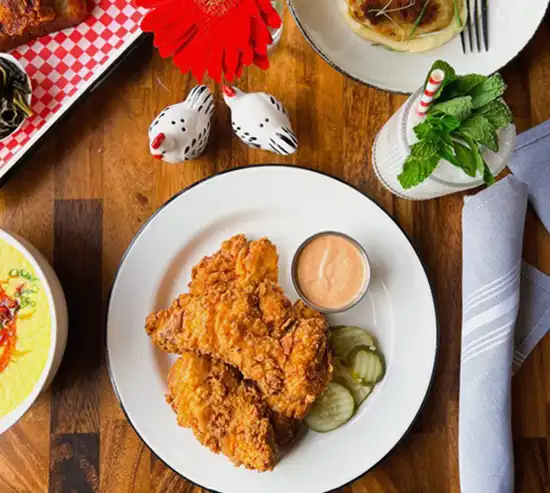 modern southern food
The inspiration for a modern Southern food restaurant began four years ago when Nick and Tracy's son Jackson began studying at the College of Charleston in South Carolina. Over the 4 years of traveling down to visit Jackson, it made the family fans of the food and its history. 
The unique setting in an old gas station with cinder block walls and 15-foot ceilings will distinguish Honeybird. So will Nick's take on the classics together with the southern hospitality.
warm neighborhood
Set in the historically rich and beautiful Rumford Center campus the Rabar's have created a warm neighborhood gathering spot that is the perfect blend of luxury meets loft. Offering a playful approach to progressive American cuisine, the menu features modern, local, seasonal ingredients. The interesting food is complimented by a creative cocktail list with vintage flavor that blends seamlessly with an approachable domestic wine list where each bottle was hand selected by the Rabar's.
Whether you choose to dine indoors or take in the beautiful setting from the brick patio you are sure to experience something special at Avenue N American Kitchen.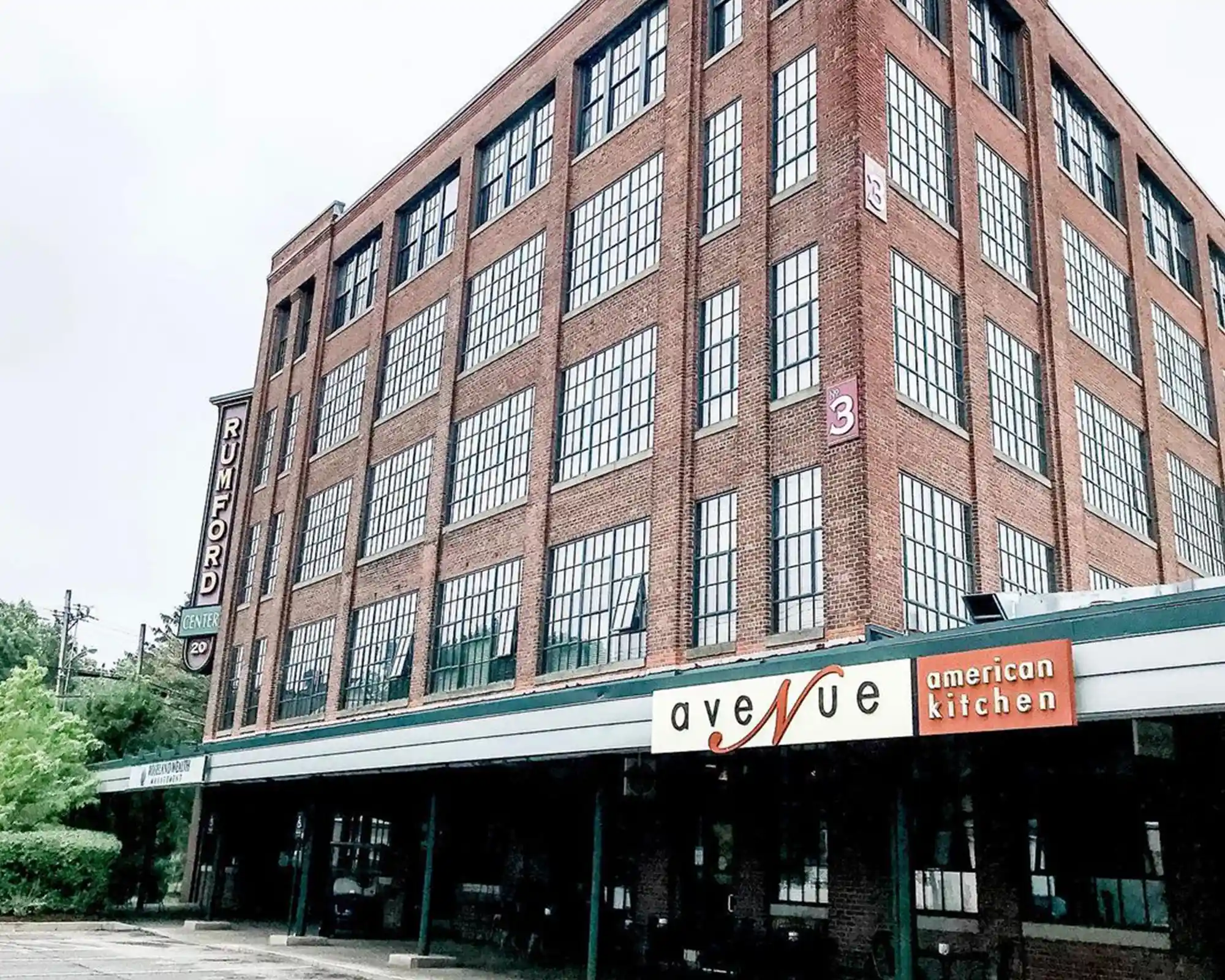 avenue n
We can't put into words how excited we are to be back in Providence. This city, particularly the East Side, has given us so much over the years. It's where we first met, worked, dined, lived and started our family all those years ago. We spent some of the best years of our lives walking the boulevard and shopping on Hope Street. To be back is truly surreal. Rumford is our home, but Providence will always hold a special place in our hearts. Thank you Providence for welcoming us back with such open arms. To be able to bring our Avenue N here is a privilege, one we will never take for granted.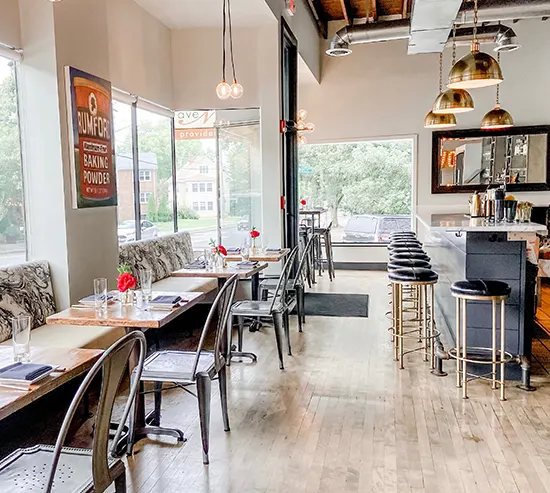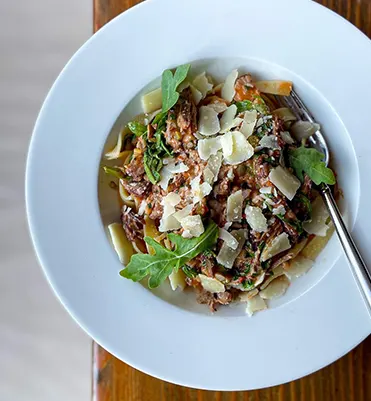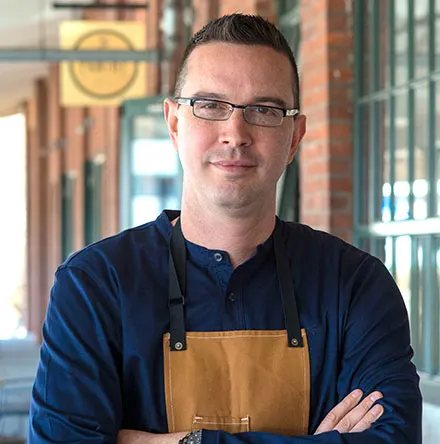 Nick Rabar
Chef / Television Host / Entrepreneur / Author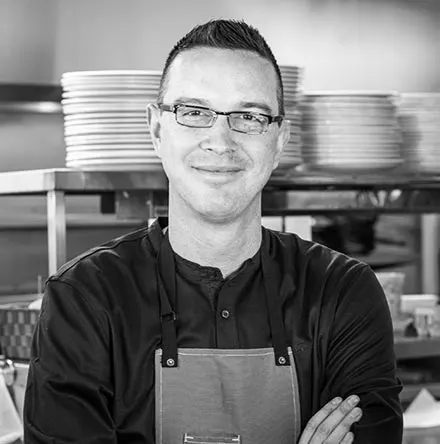 Chef / Television Host / Entrepreneur / Author
Since the beginning of his 25-year career, Chef, Author and TV personality Nick Rabar has maintained a true passion for classic American fare. Influenced by the pastoral surroundings of his childhood in New York's Hudson Valley, Nick has long been inspired by fresh, local ingredients. His signature style of progressive American comfort food has been the driving force behind his debut restaurant - Avenue N American Kitchen. Prior to founding Avenue N, he attended the Culinary Institute of America and perfected his craft in some of the finest kitchens in New York, Massachusetts and Rhode Island.
When not in the kitchen Nick is the host of the hit PBS show "HEATED" where he engages in delicious disputations about all the foods you love, and love to hate. He was previously the Emmy nominated host of "Nick Rabar: Chef 2 Go" and "Stir it Up with Nick Rabar". He is also the author of the culinary novels "The Cold Side of the Grill" and "Down the Line." Both have received critical acclaim and are the first two parts of the three part series.
Nick has been blessed with numerous awards​ including two nominations for the prestigious James Beard award. He was also named Best and Brightest Young American Chefs by Spirit Magazine and the two-time Chef of the Year by The Rhode Island Hospitality Association.
In 2012 he opened The Pantry, a small market featuring hundreds of locally grown and produced products as well as hand crafted prepared foods. Nick and his team have numerous projects on deck including web based ordering, organic sauce lines and future restaurant concepts.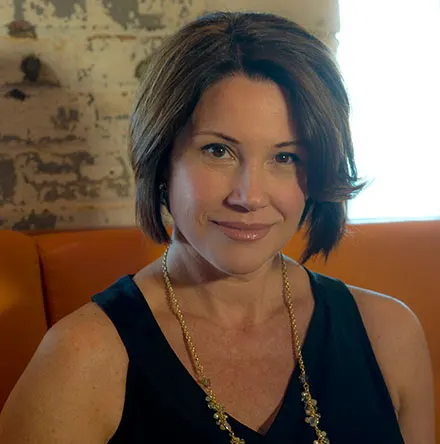 Tracy Rabar
Guest Service Specialist / Entrepreneur / Educator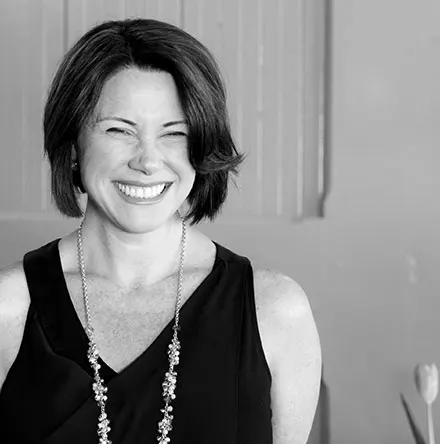 Guest Service Specialist / Entrepreneur / Educator
As owner of Avenue N American Kitchen & The Pantry at Avenue N Tracy is the driving force of what truly defines the mission statement of her acclaimed eateries, genuine and superior hospitality. Growing up in a family that took great pride in food and dining she has long been attracted to tht art of entertaining. It is an art that she has cultivated professionally over the last three decades and continues to perfect. While today she is most known for the restaurants she owns with her husband Nick in Rumford and Providence she has made many dynamic contributions to our local industry. Tracy has been influential in sculpting some of the most distinguished restaurants and food groups in Rhode Island. Upon graduating from college she immediately began perfecting her skills in hospitality consecutively managing two of Providence's most prominent restaurants. Eventually becoming a marketing specialist and national trainer for one of the world's largest food service providers, Tracy culminated her career by becoming an instructor in the College of Culinary Arts at Johnson & Wales University in 2010.
Tracy continues to stay active in the current restaurant and food industry, as well as being involved in the schools and activities of her three sons. If you don't see her greeting guests at Avenue N or merchandising goods at The Pantry she is likely to be found on a baseball or football field, swinging kettlebells at her local gym or buried under piles of dirty laundry. Occasionally, she still finds time to explore her passion for cooking and wine and likes nothing more than sharing a glass or two on the porch with Nick.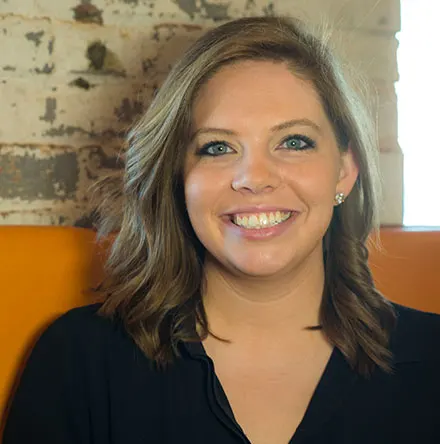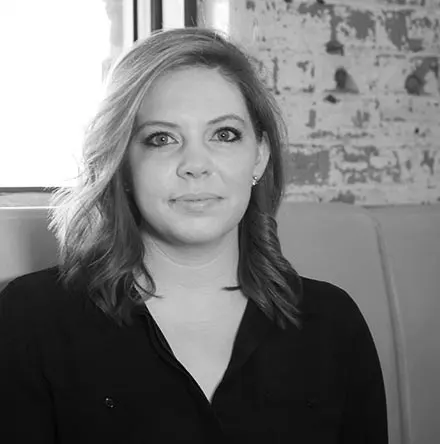 General Manager
Emily joined our team in 2012 with a great love of the industry. In high school, she worked at the local favorite Eats in Seekonk and from there, she studied in at the University of Connecticut making her way back to Providence after graduation. Emily came on board as a hostess and has since been become a jill of all trades eventually using her skills and intuition to work her way up to her current position as General Manager. If she's not hustling through the dining room tailoring the hospitality experience of Avenue N, she enjoys sipping a glass of cabernet and Instagramming.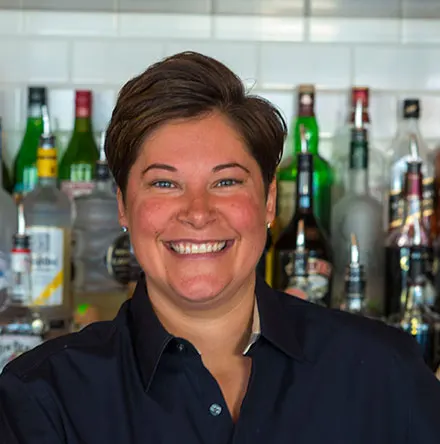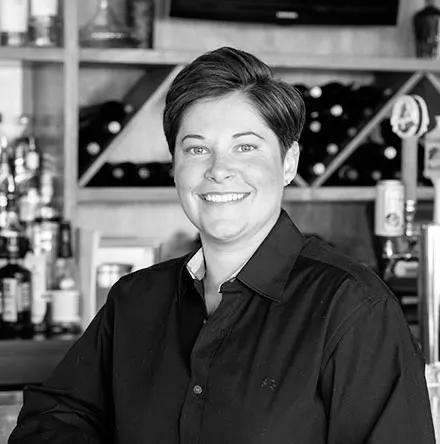 Beverage Director
After spending almost a decade in the beer industry, working for different distributors and finally for Anheuser Busch as a Retail Account Manager, Lesley felt she needed to make a change and she decided to return to working behind the bar. Over the past years she has honed her skills working for various restaurants and bars throughout the State before finding her home at Avenue N. As beverage director Lesley is responsible for the content of the cocktail menu, she likes to keep it creative and Interesting—utilizing new and inventive techniques and ingredients. She uses local, fresh ingredients for her hand crafted cocktails and represent with the bar program the same philosophy as her peers in the kitchen.
Lesley also uses her love of travel and dining to help her find inspiration for new cocktails. Her travels to Europe have taught her a lot about classic cocktail techniques, which she then puts her own spin on.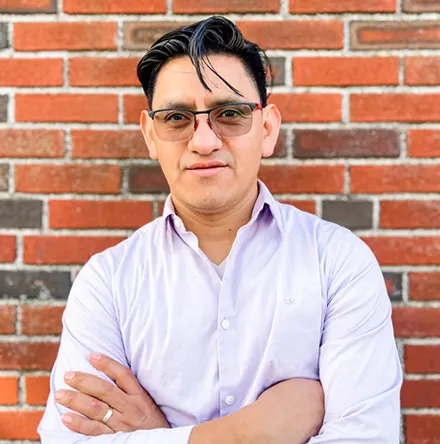 German Cos
Chef de Cuisine, Avenue N Providence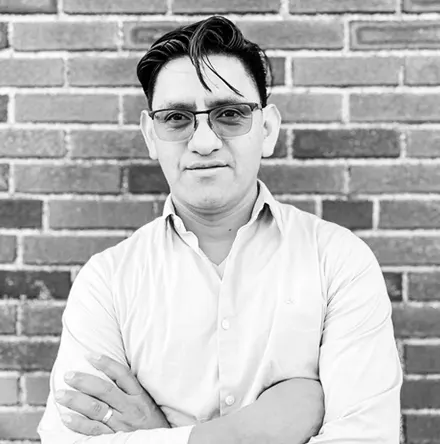 Chef de Cuisine, Avenue N Providence
German Cos, a self educated chef, born in Guatemala has spent his entire life immersing himself in the art of food. Growing up in a household that enjoyed preparing meals from their native country he spent many days in the kitchen cooking with his family and extended family. German realized at a young age that cooking was something that excited him and he pushed himself to learn everything he could from the many talented chefs he would soon encounter.
German spent his early years at the popular 1149 Restaurant in East Greenwich before he became a member of the opening culinary team at Avenue N Rumford. German worked side by side with Nick for 6 years before spreading his wings and taking over the kitchens of some of Rhode Island's most popular restaurants, such as Chapel Grille and Mare Rooftop. We were thrilled when Chef German found his way back home to Avenue N just a few months ago to take on the role of Chef de Cuisine of our Providence location.
German's tremendous culinary expertise along with his strong leadership style and desire to learn every day has made him one of our most valued team members. When he is not keeping things running smoothly in Providence he can often be found cooking at home for his family or kitchen crew, spending time with his wife, Vicenta and his daughters Allison and Jessy or kicking the soccer ball around with his teammates.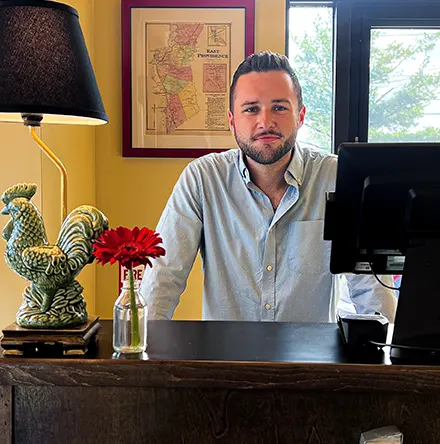 Jackson Rush
Restaurant Manager, Honeybird Kitchen & Cocktails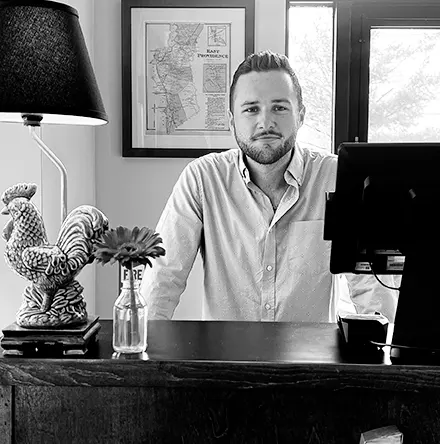 Restaurant Manager, Honeybird Kitchen & Cocktails
Jackson Rush, the eldest son of owners Nick and Tracy Rabar has been a member of the Avenue N Restaurant Group team since taking on his first job as a busboy at age 14. Having spent most of his life growing up in a restaurant family Jackson learned early on the importance of hospitality and hard work.
Jackson discovered almost immediately that he enjoyed the high energy environment that a busy restaurant provided and worked his way through several positions including food runner, expeditor, server and host before heading off to college in Charleston, South Carolina. It was there that he honed his skills and adapted his own style of southern hospitality working at two of Charleston's most popular restaurants - the iconic Poogan's Porch and the highly acclaimed Delaney Oyster House. Jackson would often send home recipes and menu ideas for the southern style comfort foods that he had come to love. Those ideas are what would soon become the inspiration for Honeybird Kitchen & Cocktails. 
Upon his graduation from The College of Charleston Jackson returned home to Rhode Island and began his career in restaurant management working at both Avenue N locations and The Pantry. We are thrilled that Jackson will be taking the reins at Honeybird as Restaurant Manager this summer. Look for him greeting guests with his signature "How Y'all Doing" and get ready to feel a little southern hospitality right here at home!